Middlelife crisis has never looked better than in the performance of Ricardo Darín, and Woody Allen's Manhattan has found an echoing Argentinian version of a man's quest for his self. In a word, Juan Jose Campanella's Son of the Bride qualifies for a romantic comedy with a sentimental core. There are no never-ending monologues on the feelings and more spunk in Rafael Belvedere's language and passionate manner of expressing himself, which is a gain for the movie if you dislike Woody Allen's endless verboseness and the constant deconstruction of his own person and relationships.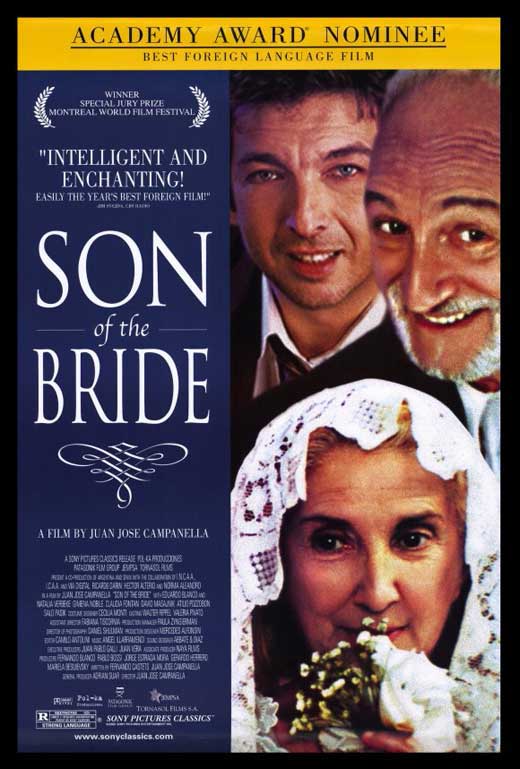 Rafael Belvedere is busy taking care of his restaurant, keeping up with his younger girlfriend, his fatherly responsibilities, his ex-wife's frustrations and his mother's Alzheimer's disease. It is an Oscar material kind of movie where people lead antsy lives rendered in a rather comical manner. Romance is only for older people and daily worries are for people in their early fourties when success begins to take shape, yet there are no meaningful others around you to value your endeavours. So, what does life tell you? To take a break in the most significant manner- a heart attack. Rafael is given the chance to stop and smell the roses for a while and give back something to those around him. First, there is his father, Nino, whose dream is to marry his long life companion, Norma so as to cherish not only the 44 years of happiness but also to fulfill his wife's wish. Except that the wife is no longer able to grasp reality and his grand gesture. Neither is Rafael since, to him, his father's gesture is futile and corny. So is Natalia's request to commit or his daughter's request to read her poems. It takes a weak heart, a goofy friend from childhood, an innocent piece of poetry, and his mother's soft look to melt away all resilience and fear.
Ricardo Darín is a fine actor and a dashing leading man, who never fails to get under your skin; there is a certain sparkle in his eyes and a playfulness that penetrates both lighter moments and painful times. Other than the remarkable performances of Norma Aleandro and Hector Alterio as his parents, the movie is soft and undemanding, the kind of comedy that puts you in a good mood. Its message is positive and hopeful- broken dreams can be turned into promise, bitterness can be melted into romance, funny friends can put things into perspective, relationships can be mended. In a good, perfect little world, such things can be effortly accomplished and what if reality smothers enthusiasm, we are all allowed to go to sleep with good thoughts, aren't we? Juan Jose Campanella's society might be on the verge of economic crisis, his leading actor is definetely in the middle of a personal one, still humour seems to distill the hardships of life and make grey days bearable. There are times when we want to forget about the cruel, drug-run Latin American, where little boys with big guns run the show, bathing it all in blood.
And there are moments when such light, comfortable movies set the tone for a happy sigh and a dreamlees sleep in a world where tiramisu is not cream cheese, Dick Watson should not be ignored, poems about braces win teddy bears, butter cookies sweep men off their feet, goofy friends deliver pizza, and parents and children and children and parents are given second chances for second lives.