Nadine Labaki's
musical fable speaks of the tense relations between the Christian and the Muslim dwellers of a remote village, surrounded by deadly mines. This small village belongs to no specific country but it is used, by the talented director, as an allegory about the lack of religious and political tolerance.
Where do we go now?
is also a movie about the surviving power of love that drives the women to extreme, cunning gestures meant to keep all inhabitants safe and in peace.
It is funny how women meet, gossip and devise elaborated schemes to keep their men -sons, husbands, fathers, uncles- in the dark about the political turmoil outside their remote village that might inflict severe suffering on them all. Women dance, mourn, cook, clean, take care of their men's needs and even hire Ukrainian dancers to keep their minds off the religious strife. The only sane, enraged men are the priest and the imam, who try to appease both sides' anger and go along with the women's sabotaging of the village radio and wasting of the village TV. There is a kind of shared familiarity and hidden agenda among the women who go in cahoots to keep the accidental death of a young Muslim a secret. It all sums up to this universal concept that if a man is kept satisfied and cleverly given a false sense of control, he will not waste his energy on other things.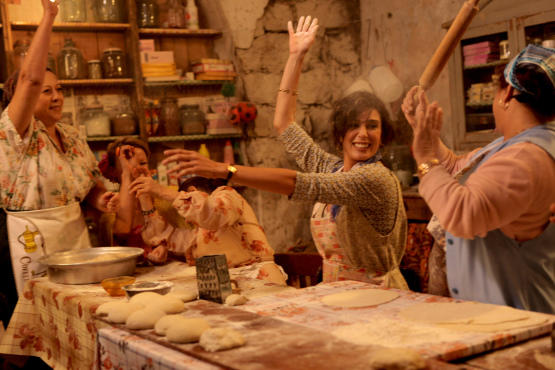 The film has its sparkling moments, some of the scenes contain sensuous movements and the procession of dancing women dressed in traditional black clothes that opens the movie, though it makes the viewer think of a comedy, is rather sad. Humanity and loss bind them regardless of their religious views and their immediate happiness is more important than whatever happens outside the boundaries of their little oasis. The movie alternates between traditional and modern, light and dark, opposite views and female solidarity, all under the veil of music, dance and love. Where do we go now? is also full of witty humour, especially in the scenes where the bus of prostitutes arrives to town and they start showing their almost naked bodies around the horny men or the scene where the men all lay ecstatic after having eaten the pot cookies.


This is Nadine Labaki's second movie and although it hasn't reached the success of Caramel, this film is tangible proof of her talent and sensitivity, an attempt to speak of the women's multiple roles and their driving force. It is a feel-good comedy of manners in which the director herself plays Amal, a widowed Christian, running a cafe and secretly coveting a Muslim handyman, played by Julien Farhat. Where do we go now? is colourful and funny, full of energy and, even though the women's efforts sometimes seem less credible or likely to succeed, it is Labaki's ambitious faith in the force of women and their need to feel empowered that instantly draws your attention.