Whether inspired by or chosen as an excuse to marvel at some intriguing ideas, movies often rely on famous books to capture the writer's story in a cinemathic vision. Here are some of the movies- animated, short or feature- that drew my attention in a soul-touching manner, in which books are, above all, the main character.
Fahrenheit 451
(1966). This is François Truffaut's first English-language picture inspired from Ray Bradbury's sci-fi novel. In a distant future, books are burnt -contrary to Bulgakov's opinion that "manuscripts don't burn"- by firemen so book lovers take upon the task of becoming themselves a book they learn by heart and recite endlessly. Minds can neither be confined nor denied freedom, so what book would you like to be?

The Name of the Rose
(1986), starring Sean Connery and young Christian Slater, is inspired by Umberto Eco's first novel. It is a murder mystery that revolves around the power of laughter meant to free the mind and enlighten the spirit. Inquisition and human curiosity collide in a battle of right and wrong or ignorance and logic. It is a display of great performances, authentic atmosphere and a taste of medieval times that masterly recreates the story within Eco's book.


The Hours
is a 2002 drama film directed by Stephen Daldry, and starring Nicole Kidman, Meryl Streep, Julianne Moore and Ed Harris. The novel
Mrs Dalloway
by Virginia Woolf is the book that connects the lives of three women from different times and social backgrounds. These are Clarissa Vaughan (Streep), a New Yorker throwing a party for her AIDS-stricken friend and poet, Richard (Harris) in 2001; Laura Brown (Moore), a housewife with child in the 1950s, trapped in an unhappy marriage; and Virginia Woolf herself (Kidman) in 1920s England, who, while struggling to write her novel, faces depression.


Life of Pi
(2012) is an unbelievable story meant to be turned into a book. I can only imagine how challenging might be for a writer to find the courage to put on paper such an amazing story of redepmtion, faith and survival. Some stories are too powerful, with a life of their own and it takes a bold heart and a skillful hand to make them immortal. Check my review
here
.

The Help
(2011) is about doing the right thing despite unwritten social rules and discriminating, judgemental life choices. Skeeter (Emma Stone) is an independent white girl who puts on paper the story of unseen, ignored black housemaids who have been mistreated all their lives. The success of the book brings a few good laughs and the validation these women have been deprived of their entire existence. It is a movie about a book that binds three women forever in a relationship of friendship and hope.

Misery
(1990). Obssessive love for books and their characters can turn you into a frightening, abusive number one fan. Annie Wilkes's empty life weaves around the character of Paul Sheldon's most successful novel -Misery- and after she saves his life, feels she is entitled the honour of being written a novel. This is an American thriller film, based on Stephen King's 1987 novel, with outstanding performances. It will defintely make your Friday night a spooky one!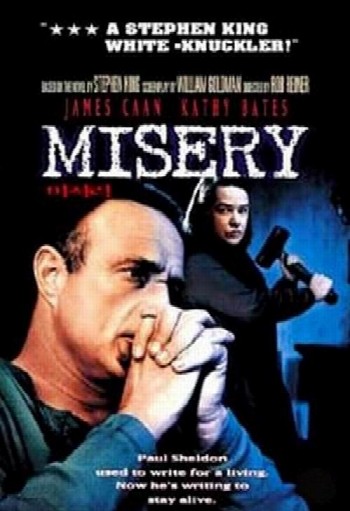 The Fantastic Flying Books of Mr Morris Lessmore
is a short animated film about the joy of reading. Mr Morris, a book lover, is swept away by a storm and dragged into a black and white land where he wanders hopelessly until a beautiful flying woman gives him her favourite book. Guided by the character of the book, he enters the local library and everything blooms in colour. Winning an Oscar in 2011 for best animated short, this movie is a celebration of books and an endless invitation to read them over and over again, in an attempt to keep them alive.
Adaptation is a 2002 American drama about two twin brothers, a script, writer's block, a swamp, shooting, death, arrests and finally resolution. Sometimes, writers need to experience a little drama in their lives so that they can be prolific in writing. Chris Cooper won the Academy Award for Best Supporting Actor, while Nicolas Cage (Actor in a Leading Role) and Meryl Streep (Supporting Actress) were nominated for their performances, which accounts for the movie's success and overall positive audience rating.

Books are too important to miss, journeys that need to be taken if we want to enrich our lives and broaden our horizons. Great movies are usually inspired from great books but may also be used as the best opportunity to plead the cause of reading.
"Books are to remind us what asses and fools we are." Ray Bradbury, Fahrenheit 451