Do you believe in soul mates and in the kind of love that transcends time and space? Well,
Café de Flore
(2011) is a movie about the everlasting love at first sight that knows no boundaries and abides by no rules of mankind. It is that kind of love that heals you and makes you ill, that saves you and condemns your soul for eternity, that lifts your spirits and brings your heart down. 
The movie simply asks you take a leap of faith and leaving reason aside, embrace the parallel love stories with a simple mind and an open heart, as Canadian filmmaker Jean-Marc Vallée's
Café de Flore
is an innocent, honest, painful confession of
amour fou
. Antoine (Kevin Parent), a handsome travelling club D.J. of 40, is madly in love with his beautiful younger, Rose (Évelyne Brochu). Antoine has two daughters by his former wife, Carole (Hélène Florent), who still believes in her heart that they were fated to be together forever. The parallel story begins in 1969 in Paris, where Jacqueline (Vanessa Paradis) is a hairdresser who raises Laurent (Marin Gerrier) with Down syndrome. When she refuses to institutionalise the child, her husband leaves her, and she devotes herself obsessively to Laurent's upbringing. While in kindergarten, Laurent finds Vero, a little girl with the same syndrome, with whom he instantly connects, making his suffocating mother feel second best.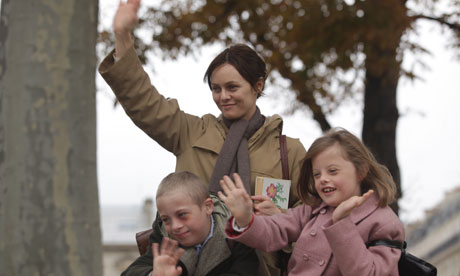 The movie beautifully deals with controversial issues such as reincarnation or intertwined destines, without being sentimental or artificial. Written, directed and edited by Jean-Marc Vallée, it made me think of
What Dreams May Come (1998),
a more affected and colourful film on the same sensitive subject and of
Adam and Eve
, a Romanian short story by Liviu Rebreanu, of two destined lovers that travel across times to be forever in love and always apart. It is built like a crossword puzzle of two stories trapped in time, one in Montreal, the other in Paris, years apart, bound by the same unfulfilled love.
The movie raises some challenging questions about whether unconditional love is really something to wish for or to avoid at all costs, if possible. Also, how can you go on living without the loved one, when your feelings never die and you have to get used to being left behind? Carole, the deserted wife, calls Antoine her "twin flame" and wonders how she could find the strength to live without him. How can Jacquline, the mother, accept and live on with the betrayal of her son who tells her "I love her like I love you" when talking about his companion, Veronique?
In
Café de Flore,
love knows neither age nor explanation; it just pushes the characters to the most extreme gestures and sacrifices. All characters -the older daughter, the former wife, the mother, the parents, the lover- seem to lose love and then miraculously find love, nevertheless, paying the highest price. It is as if such love has a mind of its own and it will get fulfilled, regardless of all burdens, hardships and people's desires. Jacqueline's and Carole's strong faces melt your heart and it is almost impossible not to take sides and empathise with their turmoil and anguish. If
Cloud Atlas
was too hard for you to digest and too complicated to watch, despite your interest in the subject of twin destinies, then
Café de Flore
is your kind of movie: with excellent performances -especially that of Vanessa Paradis- universally humane, intimate, about something we are either lucky enough to have found or hopelessly dreaming of!